Pamela Dickerson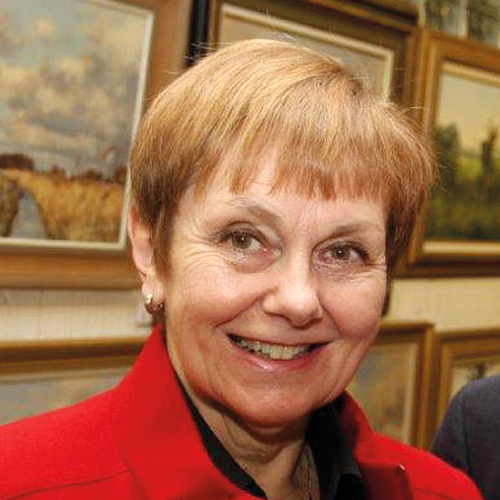 From the time when she was just able to hold a pencil and brush, drawing and painting has occupied much of Pamela Dickerson's time.
As a young girl she took a passionate interest in ballet, so dancing figures were doodled on school books and any available paper. Following her interest in both ballet and art, a love of costume was formed and from this the 'silhouette' ladies gradually evolved over the years. The designs of the ladies' dresses are all from Pamela's imagination, mostly depicting styles of the Victorian and Edwardian eras, often adorned with satin ribbons and ostrich feathers. The abundance of translucent lace is achieved by hundreds of fine dots and a wash applied to give the shading effect of deep folds and frills. The 'lace' technique is Pamela's own idea, and has developed through many years of practice.
Each silhouette is very much an original watercolour.
The flower studies and still-life paintings show fine detail, and effects such as dark backgrounds, and reflected surfaces are used to project the subjects.
The surrounding Norfolk countryside has proved a source of inspiration in Pamela's work as has the coastline, so landscapes and seascapes feature in a wide variety of subjects, she continues to capture all aspects of nature using various techniques in oil, watercolour and pastel.
Pamela began selling her work in 1965, when working in an art gallery in Elm Hill, Norwich. Several exhibitions of her paintings soon followed, since when she has received regular commissions for her work.
With her family now grown up, Pamela has more time to pursue her love of painting, and such is her involvement and keen interest in the art world that in 1987 she opened Tudor Galleries
Medium:
Watercolour
Signed Limited Edition Print
Oil
Oil on Canvas