Sunarni Puji Lestari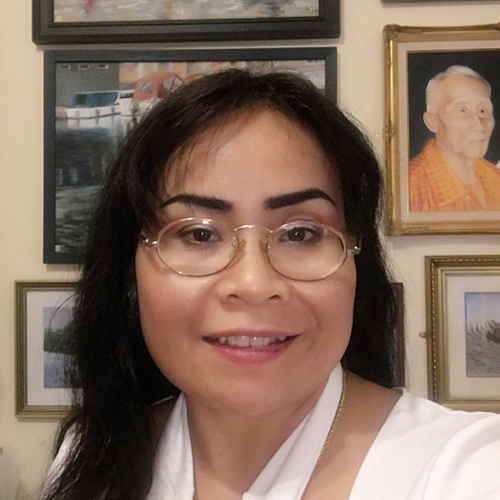 Sunarni Puji Lestari is an artist from Bali who came to live in Great Yarmouth in 2007. She specialises in charismatic portraiture and bold landscapes and has enjoyed much success in her native country where she gained her Masters Degree of Education in Art.
As a Balinese artist she has had many successful exhibitions and her work is in private collections around the world; Japan, USA, Europe, Canada, Africa, Middle East, New Zealand, Australia, Asia and the United Kingdom.
Born into an artistic family she is a compassionate artist who gives priority to the pleasure and satisfaction in creating paintings. Lestari loves to paint using a variety of mediums; oil, charcoal, pastel, pencil, acrylic and watercolour. In recent years, whilst living in Norfolk, her paintings have captured the unique atmosphere of the Norfolk countryside and Broadland including boats, wildlife, rustic mills, churches and all that she finds captivating.
She is a well respected committee member and was overwhelmed to receive the Chairman's Award 2011/12 as the artist who had made the most progress.
Since 2013, Lestari has been tutoring life-drawing and, since moving to Lowestoft has also been volunteering at WDAVF (Waveney Domestic Violent & Abuse Forum) at the Kirkley Centre. Previously, at Great Yarmouth, she worked in Day Nurseries and established her own gallery at Albert Square. Lestari loves to work through volunteering and her art has influenced a wide range of people from different backgrounds, cultures, ages and abilities. Indonesian Culture plays a large part in her teaching and she shares her knowledge of crafting, geography, traditional music, dance, games, costumes, language, food and everyday life. From such life-skill experiences Lestari has created "Cinnamon Kitchen" her own small catering business and a café with gallery are in her sights for the future.
Medium:
Watercolour
Oil