Margaret Carver RMS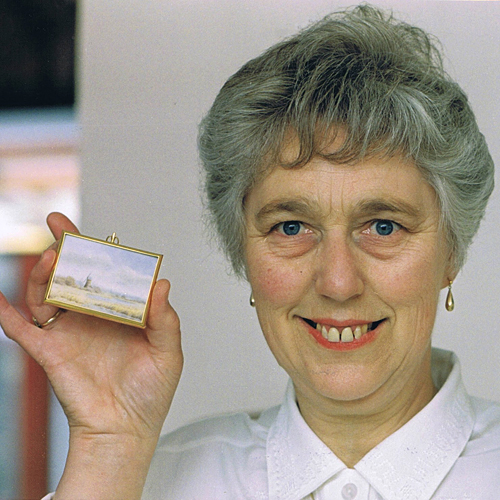 Margaret started painting as a hobby in 1972 with no formal training. Starting with oils she progressed to watercolour and finally to pastel, her favourite medium. Married with a grown up family she still lives within a mile of where she was born at West Caister and her inspiration for her painting comes from the love of the wide open countryside around her. She enjoys sketching from nature and all her preparatory work for landscapes is done outside on location.
In 1986 she was made an Associate Member of the Royal Miniature Society and a Full Member in 1996. Margaret was awarded a Certificate of Excellence for a set of six miniature landscapes at a prestigious exhibition of 800 miniatures in London. She demonstrated her technique in miniature art at the first World's Exhibition of Miniatures at the Westminster Galleries in London in 1995 and also exhibited at the World Exhibitions of Miniature Art in Washington D.C. and Tasmania. Margaret is featured in the RMS publication "100 Years of Miniature Art", a vellum bound copy of which is held in Her Majesty The Queen's library at Windsor. She was elected a member of the Society of Women Artists in 1997.
Margaret has staged seven solo exhibitions in East Anglia showing the whole range of her work including large oils, watercolours and pastels and her work is held in private collections both in this country and abroad. She sold over 100 paintings at each of her last two solo exhibitions.
Margaret was a founder Member of the James Paget Hospital Arts Committee where she and Julian Macey pioneered projects raising thousands of pounds in 20 years. Her voluntary work extended to the County Forums representing Art for Health and serving on the 2020 Committee for the Visual Arts Strategy for Norfolk. In 1999 she and Julian also worked to save the Museum Galleries in Gt. Yarmouth for art and they were invited to serve on the Galleries Advisory Committee.
Her fund raising continued over the years by giving talks on her journey into art entitled "Every Picture Tells a Story." She has also given talks and demonstrations to local schools.
Margaret joined the Gt. Yarmouth and District Society of Artists in 1981 becoming, Treasurer, Secretary and then Chairman, a post she held for 28 years. She was awarded Honorary Life Membership in 2014 for her contribution to the Society and in 2015 was elected President of the Society. Whilst in office as Chairman her greatest achievement, together with Susan and Nick Marshall was the production of Her Majesty The Queen's Jubilee book which Margaret presented To Her Majesty's Lady in Waiting at Sandringham.
Medium:
Pastel
Oil on Canvas
Oil
Style: Landscape, Miniature